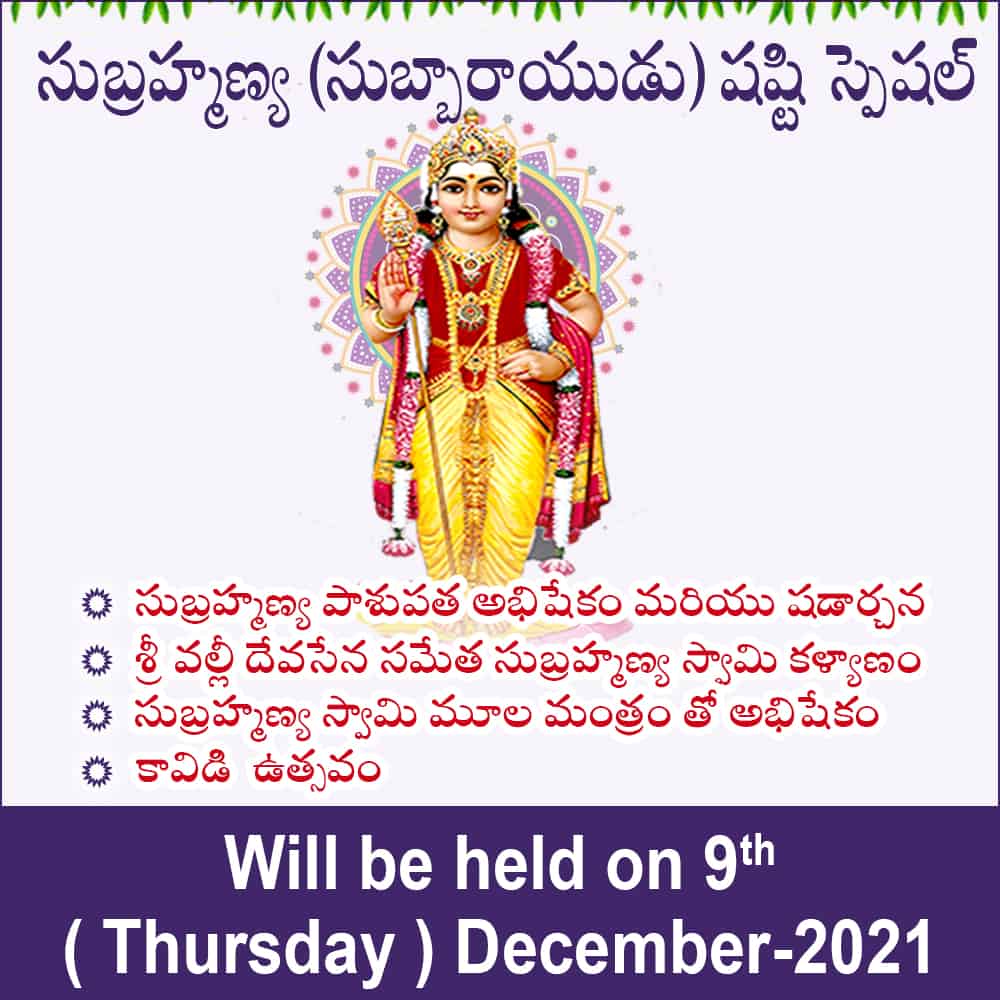 Subramanya(Subbaraydu) Shasti Special (9th December 2021)
Product Code:
EPS-SUBBARAYUDU
Subramanya(Subbaraydu) Shasti Special (9th December 2021)


1). Subramanya Pasupatha Abhishekam and Shad Archana
2). Sri Valli Devasena Sematha Subramanya Swamy Kalyanam

3). Subramanya Swamy Moola Mantram tho Abhishekam.
4). Kavidi Utsavam


Subramanya Sashti, also known as Skanda Subramanya Sashti is dedicated to Lord Subrahmanya (Skanda). It is observed on the sixth day during the Shukla Paksha of 'Margashira' month.
Subramanya Sashti is dedicated to Lord Kartikeya. Lord Subrahmanya is worshipped in the form of a 5-headed snake. It is a popular belief that one who worships Lord Subrahmanya on this day is freed from 'Sarpa Dosha.' A person who performs rituals like 'daan' and 'snan' on Subramanya Sashti will be freed from all his/her sins. A legend says that King Muchukunda observed Subramanya Sashti at the behest of Sage Vasishta. He attained immortal fame and a vast expanse of the empire stretching over all the three worlds.
Devotees worship Lord Kartikeya with devotion. Offering milk on the snake mound relieves the person from any 'Sapra Dosha.'




Benfits For Performaning This Puja :
1). performing this pooja will help a married couple conceive and deliver a Healthy Baby.
2). Unmarried women can also perform this to find a good Husband.
3). This pooja will also help reach you the top in your Education and career.
4). It Helps to get rid from Pitru Doshas, Kuja Doshas and Runavimochanam,
Prasadam:

After Completion of puja we will send prasadam at your doorsteps.
Note: You can use other payment options like Gpay & Phonepay (9849156015)