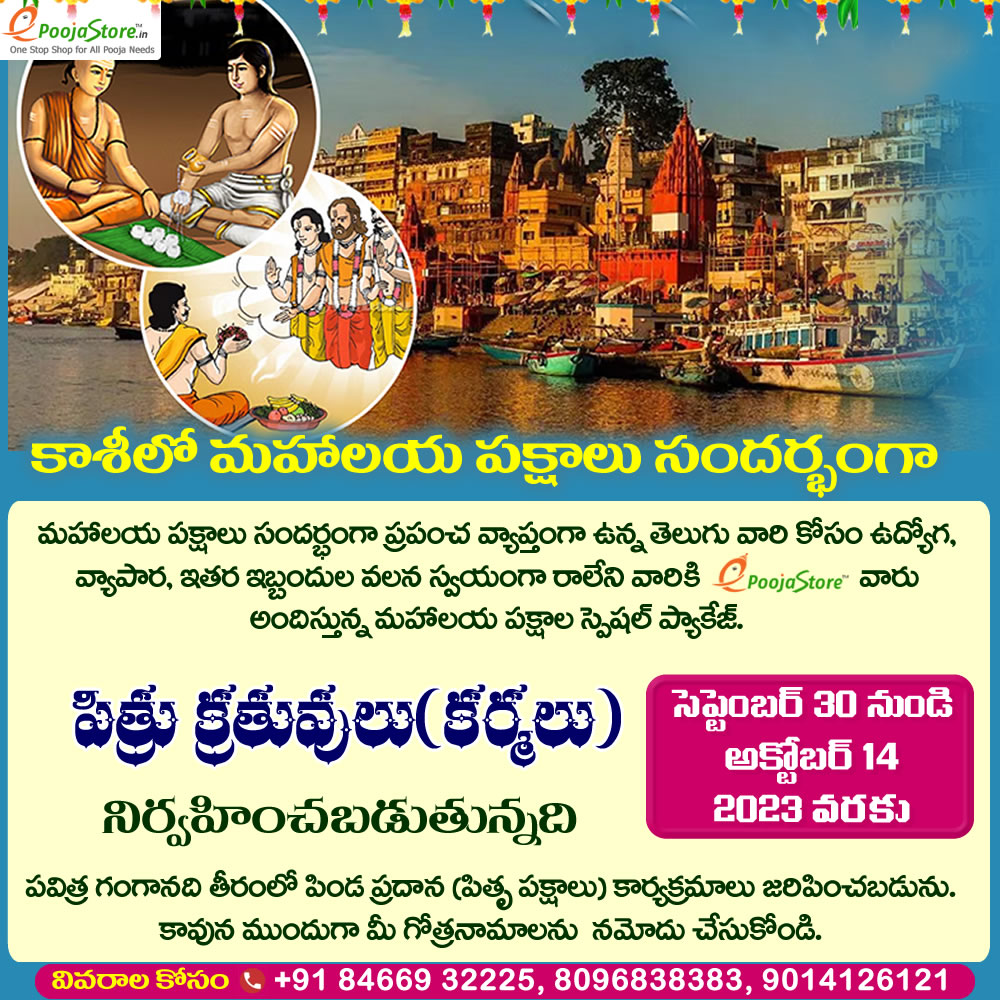 Mahalayam Paksham Special Pitru Karmalu In Kasi From (30th Sep to 14th Oct 2023)
Product Code:
EPS-PUSHKARANI
Mahalayam Paksham Special Pitru Karmalu In Kasi From (30th Sep to 14th Oct 2023)

Ancestral ritual / pitru Karma (Shraddham) is a Sacred ritual performed by experienced Vedic Priests with devotion to honor your departed loved ones/ancestors.

Performing ancestral rituals in Holy places( Like Varanasi) and also on the banks of river Ganga has more value than doing it anywhere else, as they are believed to contain powerful ancestral energy which can bestow Mukthi (Salvation), and are called 'Punya Kshethras,' where the Lord himself has set foot and is filled with his Divine energy to grant freedom from all sins (Sarva Papa Vimukti), sorrow, suffering, and negative Karma.

According to Vedic texts, propitiating ancestors with special ancestral rituals and Sacred offerings can appease the suffering of departed souls, help them ascend to higher planes, remove ancestral Karma and invoke their blessings for life success. The Puranas say that honoring and remembering ancestors through Pitrukarya (the rites pertaining to forefathers) is more important than even Devkarya (the rites pertaining to Gods).

It can help secure a place for the one performing the rituals in Heaven, free future generations from hardships, protect the family from danger and calamities, grant blessings for good progeny, and bestow good health, prosperity, fame, longevity, success, and overall well-being.
Advantages of Performing Pitru Karma Rituals :
Reduces the effects of Pitru Dosha (Ancestral Afflictions) in the birth chart
Protects against untimely/sudden death or accident of family members
Resolves problems related to relationships, career, children, finances & legal disputes
Removes bad karma due to non-performance of Pitru rituals
Pleases all the Devas, Vishwadevas (Universal Gods), Pitru Devas (Vasu, Rudra & Adithya) & Sages


What we Do
According to customers request we will perform Ancestral Rituals/ Abhishekam/ Homam and we send the sankalpam video copy to your whatsapp number.

Note: Here is our Gpay / phonepe (7731881113) number for direct payments. Once payment done please make a confirmation call to 8096838383 or 9014126121.